Yoga Teacher Training in India
Our Yoga Teacher Training India 200-hour program is certified by Yoga Alliance. The training is designed to offer a strong foundation in Hatha-Flow, combining the knowledge of Traditional and Modern Hatha with Flow. In the first part of the training we focus on Hatha Yoga, so that students can work and grasp alignment safely without the flowing aspect of a vinyasa class. Like this, students profit from working asanas with time, different props and grasping it in a traditional and modern view.
Turiya Yoga's vision is to turn sincere yoga practitioners into teachers who exude safety, integrity, self-confidence & joy. The Yoga Alliance certification is accepted worldwide and, in order to earn it, you will be assessed and evaluated throughout your whole stay with us. Our team is more than used to building a supportive and loving learning environment without letting go of that extra push that we all need to reach our potential and blossom. Turiya Yoga offers courses in India, Germany and Spain and is more than used to upholding more than well internationally standards. Once you have graduated you can confidently start teaching either in your home country or wherever you decide to travel.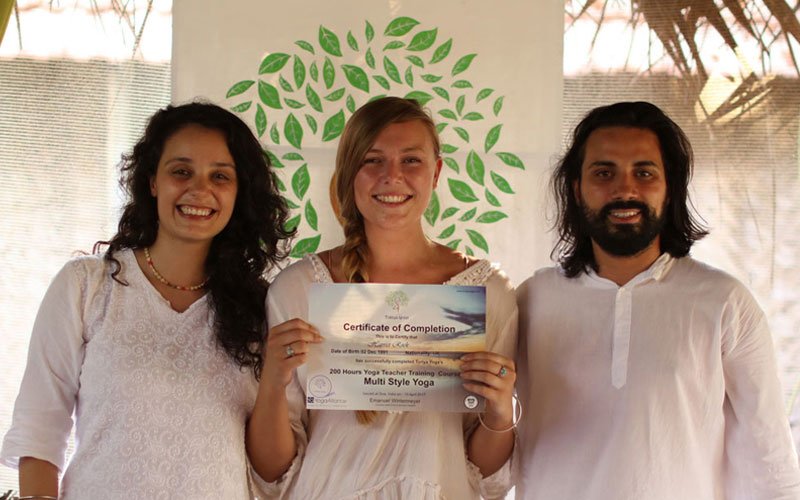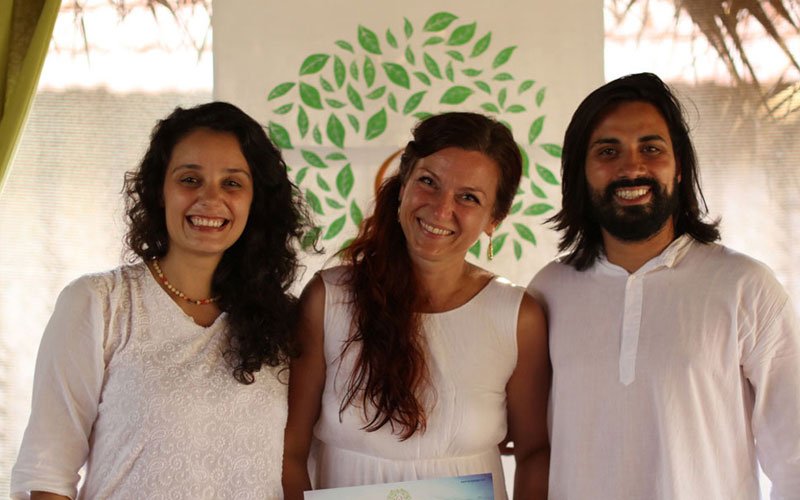 Wherever you come from, our unique 200 hour program and the time you spend with us will move you deeply. Your daily routine will start early with a yoga practice - kriyas, asanas, pranayama, meditation - surrounded by nature and silence. After quieting the body first, we can then quiet our minds. After a delicious breakfast which enjoys all the gifts of tropical India, you'll attend academic and technique classes. These are taught by professional and real yoga practitioners, that is to say people who maintain their yoga practice both on and off their mat. At the end of the day we finish with an asana, pranayama and meditation practice.
The article bellow covers different topics, feel free to go straight to any subject you want to know more about:
Styles
The majority of our practices adhere to Hatha Yoga (Traditional and Modern) and Flow. We find that ourHatha Yoga classes help to balance the energy of the dynamic flow while also focusing and deepening the students' experiences of the individual asanas. Only a few asanas per class are worked on Hatha Classes. In addition, we do offer special classes that requirea great variety of props for helping the student to spend more time in each posture in a comfortable way. These Yoga sessions help our students to recover from all the learning and natural cleansing that takes place during an intensive teacher training course like this. In additionthe students also cultivate a deeper experience of the categories of body postures, different alignments and their psychological and/or emotional side effects. Maximum Batch: We welcome only 20 students – So we can really give proper attention to everyone. Our lead teachers are with you in each step of the way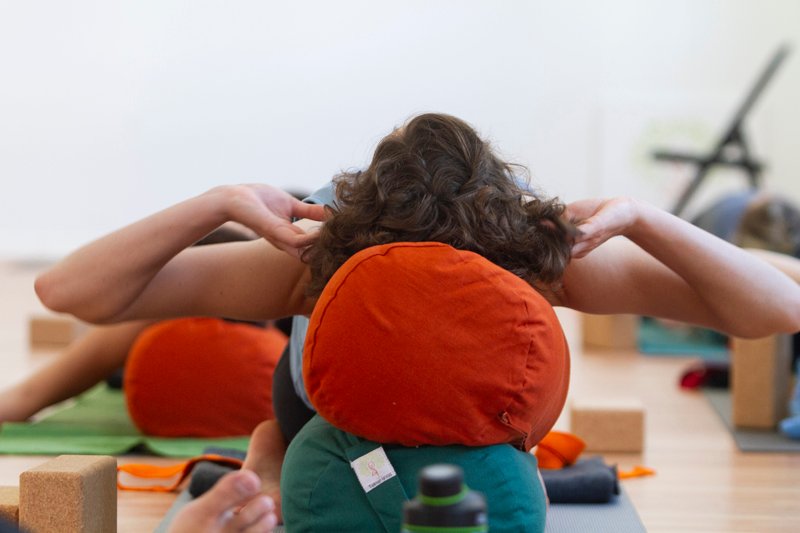 Example of Daily Schedule
6h30 - 9:00 Yoga Praxis - Kriya, Asana, Pranayama/Breathing, Meditation
9:00 - 10:00 Breakfast
10:00 - 11:30 Philosophy
11:30 - 13:00 Biomechanics
13h00 - 14:00 Lunch (Vegetarian)
14:30 – 16h00 Teaching Methodology
16:00 - 17:30 Special Techniques and Hands-on Adjustment
17h30- 19h00 - Yoga Praxis and/or Teaching (Asana, Pranayama/Breathing, Meditation)
19:00 - 20h00 Dinner (Vegetarian)
Saturdays 7h00 – 9h00 Yoga Praxis
*As with everything in life, schedules can also suffer some alteration. However, any change that do take place aims at keeping the yoga teacher training's quality and are always for the benefit of your own learning process.
Meals
The Yoga center offers healthy and delicious vegetarian yogic meals three times a day from Monday to Friday and breakfasts on Saturdays. Please note that we are prepared to deal with special dietary requirements such as gluten-free, vegan, allergies etc. Some of our own team also have special dietary requirements, so rest assured that we are more than experienced in this matter. Please be sure to inform us when applying for your course. Students are very welcome to try out the different local restaurants and touristic activities during their weekends off in this wonderful part of Goa!
Location: South of Goa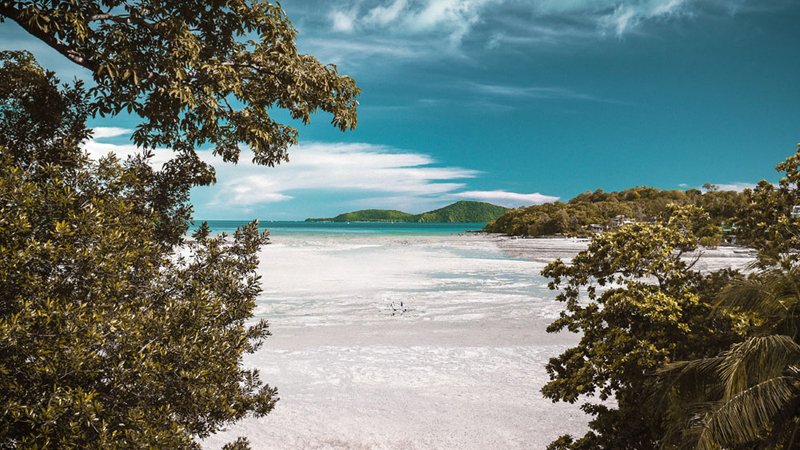 Welcome to Paradise. You will be staying at our Galjiabhaga Beach Resort in South of Goa, India. We are on the Beach with 15 Huts and a Yogashala. Each hut and the Yoga Shala has a View to the Ocean with a small Balcony.
Galgibaga Beach also called Galgibagh Beach is a beach in south Goa. It is one of the cleanest beaches of India. It is in the south of Goa in Canacona region, 7 km from the famous Palolem Beach. Galgibaga Beach is reported to be a nesting ground for Olive Ridley turtles.
* In nesting season, we Help the Turtle babies to Reach the Ocean
The South of Goa is known for its tropical natural beaches, temples, water falls, hill spots, paddy fields and coconut groves. Simple and Natural, here you can relax, swim and enjoy the sun listening to the comforting sound of the wind going through the Pine trees.
Accommodations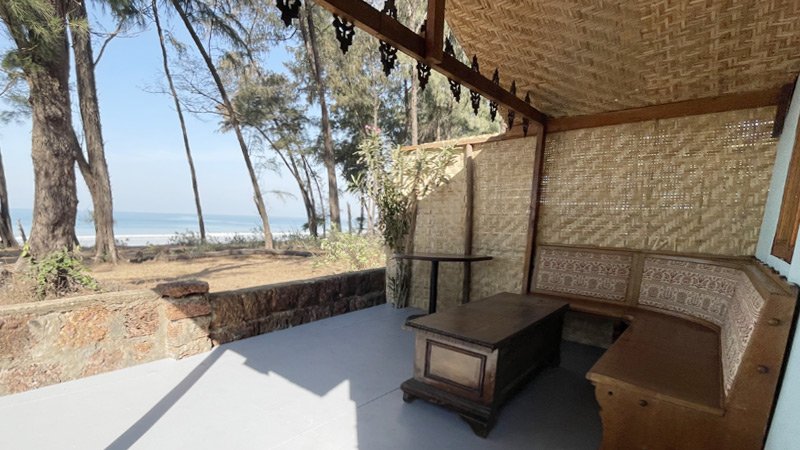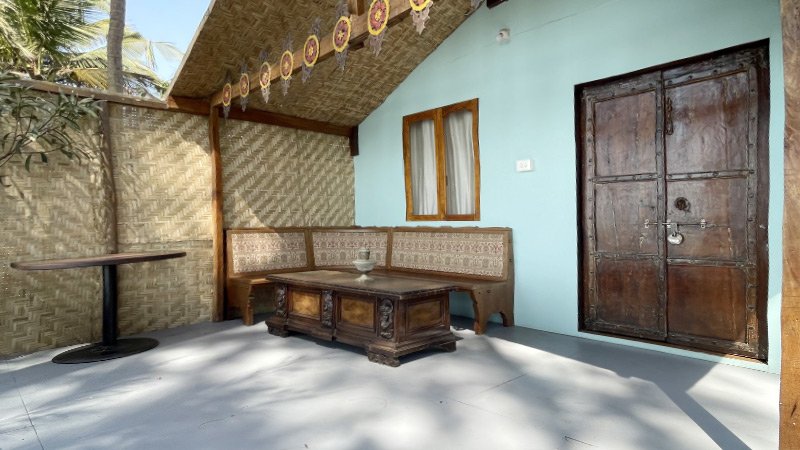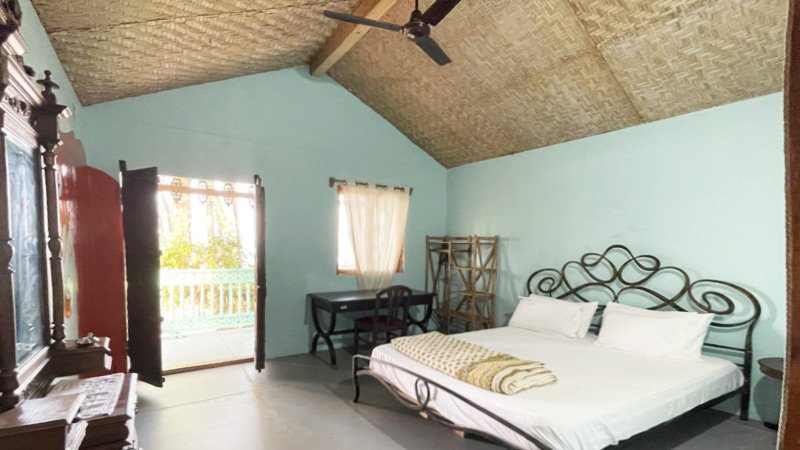 The Yoga resort is specialized in yoga groups and therefore is more than used to welcoming international groups. It is only 4km from Palolem Beach. Transport is done quite easily, taking just some Indian rupees and 10 minutes or you can rent a Scooter for 5 Dollar a day. Like this our Participants can truly enjoy both, the beach and at the same time the retreat needed to leap into their yogic journey.
Types of Accommodation: Single and Sharing Cottages
The Participants can choose between staying in a shared cottage or a single cottage. Each cottage provides a comfortable bed, linen and bedding, a fan, mosquito net, and a structured western bathroom with shower (with hot water 24h). The rooms are cleaned according to request and the resort does take care of its security by not allowing anyone besides Participants, teachers, and crew inside. In addition, the yoga resort offers wi-fi (although we urge students to try to be as disconnected as possible) and mineral water so you can refill your bottles during the day.
In share Cottage Two Separate beds are Placed with a Wooden Divider for Privacy.
In practical terms, you will learn:
You will come to know the yoga asanas (postures), benefits and contraindications. It is impossible to say that you will learn ALL the asanas since there can be hundreds or only 12 depending on the individual style of yoga practice. You will learn basic to intermediate postures and their applications. For your self-practice, if appropriate, you will also learn what some people refer to as advanced postures.
You will understand the fundamentals of therapeutic aspects of the yogic practice. Please note that yoga therapy is a widely debated theme and there are several contrasting views on the matter. No 200h course can truly turn yoga practitioner into a yoga therapist – one learns how to crawl, walk before, right? However, there are well known therapeutic aspects of yoga and a teacher do need to be well aware of those once prepping their classes.
You will come to know the fundamentals of anatomy and biomechanics, including the skeletal and muscular, respiratory, nervous and neuromuscular connections amongst other topics. The study of movement is a pillar to our 200 hours yoga teacher training, and we spend extensive time understanding it so the students can teach yoga to different people (and bodies) safely and being able to support them by giving props, adjustment, variations and/or an alternative. That's because what you will do after the course is mainly teach a class that is usually predominantly asana (posture) based. However, we do also focus a whole lot of more than the usual on subtle practices as those are the goal of yoga.
You'll understand how to prevent common and important injuries
You will learn about the cultural background of yoga's development, its demystified history and the Indian teachings presented in key yoga texts. That includes important misunderstood concepts such as: chakras, koshas, kundalini, the 4 paths of yoga, etc. We believe it is possible to be inspiring and scientific at the same time. Some say that it takes some lifetimes to really know Yoga Humanities, but you'll at least be able to learn the most important aspects so that you can have a map to rely on after the course, being able to choose which areas to focus on according to your own interest. We empower our students so they can continue to learn for themselves (contrary to being lost once the course is over and not being able to even know which philosophical path from the several presented in yoga they truly relate to). Trust us, that is very important for one's journey J
You will experience for yourself yogic cleansing techniques (kriyas)
You will learn different techniques of breath-control/ breathing (pranayama) and how to teach it.
You will learn the fundamentals of a yogic life & yogic diet, being able to distinguish these from Ayurvedic, vegetarian and vegan diets.
You will experience especially designed groups dynamics to help you develop yoga teaching tools such as instruction, adjustment, demonstration, etc. You will be able to teach and assist plenty during the course. The lead teachers are the co-founders of Turiya Yoga and are there supporting you from the moment you practice to the moment you teach and assist – you'll have valuable feedback.
You will come to know how to read different students and the ethics involved in being a yoga teacher.
You will learn how to sequence in steady practices and in flowing practices.
You will also have the opportunity to apply for Turiya Yoga's internships: either in India or in Europe. You will have a great time experiencing teaching, assisting, and learning some aspects of running a course.
Last but not least, you'll keep deepening your own practice. Yes, you always need to continue your own self-practice even when you are teaching!
*Keep in mind, we welcome only 15 students so we can really give proper attention to everyone. Our lead teachers are with you in each step of the way