Our Yoga Teachers
Teaching yoga is a great responsibility and that is why choosing the right school for a yoga teacher training in India or anywhere else is so important. It is essential that a yoga teacher knows about the philosophy of yoga, carries this in their hearts and lives this in their daily lives. A great yoga teacher actually has their own practice and not only teaches, since experience and awareness are key qualities for teachers. A yoga teacher knows that they are servants and not leaders. By teaching yoga we can deeply touch a student's heart, to be sometimes changed forever. It is therefore essential for a yoga teacher to humbly recognise that they are merely a channel for the teachings of yoga. These are the reasons why we have chosen this team. We are more than pleased to welcome you into our community:
Teachers
Manu Akaash - Ashtanga, Adjustment, Assisting Techniques & Teaching Methodology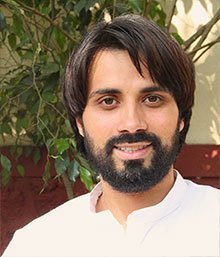 Akash is Indo-German and was brought up in both countries. He trained to be a musician from 7 years old to his late 20s in the ancient city of Varanasi in India. That was his first real step into the power of spirituality. He is a well-known musician specialising in Indian Classical music who left it all to become a yoga teacher after yoga returned him to true joy. Akash had long battled with the competitive world of musicians and had grown progressively frustrated with how the community related to each other. Nowadays he plays his music only for fun and as meditation.
Living in India, luckily Akash had the opportunity to meet different yogis and encounter many spiritual practices throughout his life. Those experiences, combined with his 6 month self-imposed time of retreat in the Himalayan mountains to deepen his yoga practices, were definitive to his path in deciding to share the teachings of yoga. He had previously spent time learning from different masters - chakra, aura and healing – but he only met his true, authentic self as a yoga teacher and trainer. Akash has also studied under renowned yogis, not only in Ashtanga Vinyasa but also Iyengar Yoga. His own students know well how energetic, enthusiastic and filled with joy he is and how he brings these qualities to his classes. A sincere practitioner and an inspiringly joyful teacher, he has previously shared his passion all over Europe, South America and Asia. His love and service in this world are his offerings of Yoga Alignment, Yoga Assisting Techniques and Ashtanga Vinyasa style. Happiness is truly his way of living & teaching, while connecting with people is his strength..
Acharya Yogesh - Philosophy, Yogic Anatomy, Kriyas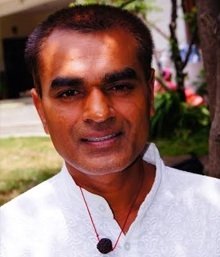 Acharya Yogesh is an Indian teacher who studied Hatha Yoga in the institute of Kaivalyadhama, jumping into the world of healing immediately afterwards with different masters in India. He regularly teaches Philosophy, Yogic Anatomy, Traditional Hatha Yoga, Pranayama, Meditation and various Cleansing Processes (Kriyas) workshops in India and Europe. So far he has taught on more than 80 Yoga Teacher Training Courses, so he can be considered one of the most authentic gems of India and Yoga. Yogesh is widely known for delivering inspiring classes and being a loving teacher. Over more than six years he has developed a true scientific attitude towards spiritual practices leading to a balanced combination of Eastern feeling and Western mind. Moreover, on his philosophical and spiritual journey he has not only studied but has consciously tried to live his life accordingly to the discourse of many great seekers of the truth such as Patanjali, Osho, Buddha, Gurdjeff, Lord Krishna, Aurobindo, Shankaracharya. He has mastery over Yogic cleansing processes (Kriyas) and Pranayama techniques. He is also a specialist in chakra cleansing and balancing. Yogesh practices his own healing therapy that combines psychological counselling, Ayurveda, Chakra therapy, Mudra Therapy, Yoga and Pranic healing.
Suzana Altero - Hatha Yoga, Philosophy, Ethics, Teaching Methodology
Suzana grew up in Brazil being spiritually fed by a family that combined a great variety of practices which aid self-knowledge: Christian Mysticism, Japanese Zen, Jungian Psychology and Hypnotherapy. Suzana has been greatly inspired by the search for our true selves since a very young age. She needed only two yoga classes to realise that being truly happy is actually possible! From that moment onwards Suzana committed herself fully to this sacred practice. She took a year's YTTC in Hatha Yoga (Kaivalyadhama Associated Institute) to improve her own practice and to embrace yoga as a spiritual path and a life-changing experience. Yoga soon taught her how our whole way of seeing reality and living in this world can become a freer and easier experience. Since then philosophy, psychology, mythology and theology have strongly inspired her growth in self-knowledge, guiding her towards other powerful yoga trainings such as an Iyengar teacher training and Vinyasa Flow teacher training.
Suzana has a deep desire to help people receive the kind of life-changing experience she herself has experienced through the practice of yoga. Yoga is the easiest and the most spontaneous way for her to give and receive happiness and she has been teaching at yoga trainings in India for more than 3 years now. Suzana has a talent for turning complicated subjects like Yogic Philosophy into easily understood teachings that combine the perspectives of both East and West. She has taught students from very different cultures and backgrounds, from youngsters to seniors, while at the same time continuously studying with known yogis inside and outside India. She is a warm-hearted teacher and a bridge between Western and Indian culture. She helps her students explore various teaching and learning techniques, always taking inspiration from Mother India and adapting it to her students' needs, their own individuality and their future role as international yoga teachers.
Gems Goddard - Anatomy (Practice & Theory)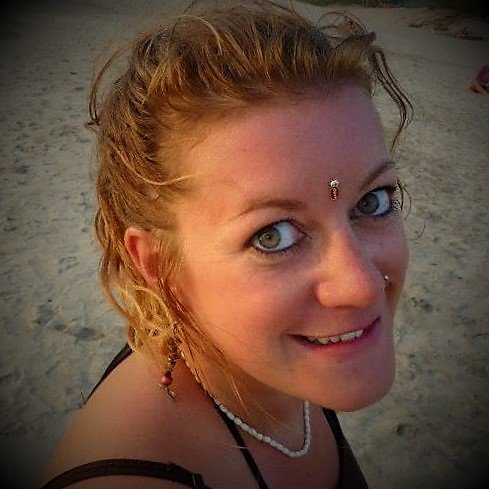 Gems is, above all, passionate about the body: how we move, why we move the way we do, exploring what's possible within this incredible human vehicle we have been gifted for our journey on this earth. She is a contemporary hoop-dancer, an English teacher and a passionate Ashtanga Vinyasa yogini. Gems has a deep and loving connection to India where she spent her last 7 winters exploring her yoga practice with renowned Indian yogis and spreading her light as a teacher since the beginning of 2012.
She has taught anatomy and adjustment classes in India and Europe. Her knowledge comes not only from her own YTTC training but also from special adjustment courses and spending a lot of time working with and observing the body - in massage, yoga, circus arts, acro-balance and contact dance improvisation - as well as a vast amount of time spent in self-study!
She is fascinated by the teaching and learning process and the incredible personal development we experience during dedicated trainings such as YTTCs. Gems is a creative and playful yoga teacher, and has a natural gift for connecting with people in and outside of the classroom, on and off the mat.